Accepted Payments
Money Back Guarantee
Get License within Few Minutes
IOTransfer Brings You Better Management on Your iOS Devices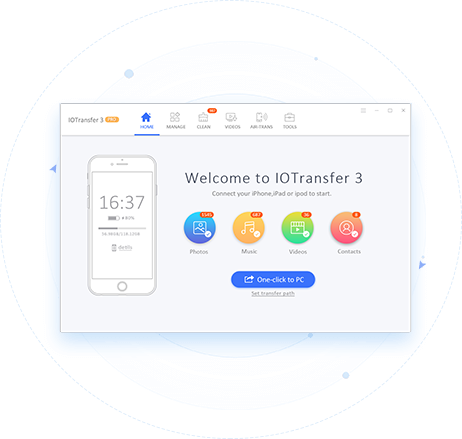 Easy iDevice Manage

Easily manage/organize/delete photos, music, videos, contacts, etc. on iPhone, iPad & iPod. Better management for your iOS files and contents.
Smart Wireless Transfer

Wirelessly transfer photos, music, videos, and document files between iOS devices and PC without USB cable.
Online Video Downloader

Directly download online videos to PC/iPhone/iPad/iPod from 100+ sites, such as YouTube, Facebook, Instagram, Vimeo, etc.
Advanced Phone Clean

One-click to delete junk files on iPhone/iPad/iPod Touch. Effectively free up storage space and speed up iOS system.
What Benefits Can You Get by Purchasing IOTransfer Full Version
Useful Features

IOTransfer 3 Trial

IOTransfer 3 Pro

IOTransfer Lifetime

Access to All Functions
7-day-trial

Unlimited

Unlimited
One-Click Transfer
Not Available

Full Functioned

Full Functioned
File Transfer/Delete
20 per day

Unlimited

Unlimited
Video Download /Conversion

Unlimited

Unlimited
iOS Cleaning
Only Scanning Provided
Scanning

+ Cleaning

Scanning + Cleaning
Subscription
7 Days
1 Year
Lifetime
$26.99 $119.97 Buy Now

1 Year / 3 PCs

$29.95 $179.97 Buy Now

Lifetime / 3 PCs
Fri*** Step***
Just bought Lifetime / 3 PCs
We use cookies to improve content and ensure you get the best experience on our website. Learn more about our privacy policy.
I Accept

Buy IOTransfer
Lifetime / 3 PCs
now for Better iDevice Management.
Buy Now