iPhone and Mac Keyboard Shortcuts and Tricks
by Niko |Sep 09,2016..
Especially for those productive Apple users, it is very necessary to know the Mac, iPhone or iPad keyboard shortcuts and tricks. Apple devices come with tons of great and useful shortcuts and tricks that can work to simplify users' life, but actually, it could be quite hard to remember all of them. In this article, we will summarize and introduce the most useful iPhone and Mac keyboard shortcuts and tricks respectively that you might not know yet. If you master these shortcuts and tricks, then you can save much time in Mac and iPhone tasks. Also, it should be fun.
iPhone Shortcuts and Tricks
iPhone Text Shortcuts
If you are tired of typing long web, email addresses, words or sentences over and over again, set iPhone text shortcuts will help save time and efforts. iPhone is extremely user-friendly, it allows you to set keyboard shortcuts for all of or some of the specific text you type regularly. Moreover, by taking advantages of iCloud service, your iPhone text shortcuts setting will be sync between you Apple devices automatically.
To set keyboard shortcuts for text on iPhone, you can go to Settings > General > Keyboard > Text Replacement. And then tap the "+" icon at the top-right corner, type in the whole phrase you would like to set a shortcut for in the Phrase field, and type in the shortcut you want to replace the phrase in the Shortcuts field, then Save.
We give you an example:
Phrase: see you soon, on my way.
Shortcut: somw
Just like that. Now, as you type the shortcut, it will replace it with the whole phrase you set. You are able to edit or delete the shortcut settings at anytime.
2. Long Press iPhone Keyboard Keys
Long-press some letters on iPhone keyboard: it will offer you the accented versions of those letters.
Long-press Delete button on iPhone keyboard: it will delete your text faster.
Long-press "."button in Safari address bar: when type website address in Safari, long press "."button can get a list of commonly-used domain name extensions.
Long-press links, photos or static text can make selection and copy the elements quickly, and long-press blanks in somewhere like web browser address bar, app input box and etc. can quickly paste the elements.
There are many other useful shortcuts and tricks of iPhone keyboard and button that you can make full use of. For example, long press Home button can activate Siri or voice control, long press Power button can turn your iPhone off, long press both Home button and Power button can force restart your iPhone, press and hold Home button and Sleep/Wake button instantly to take a screenshot and more others.
3. iPhone AssistiveTouch
AssistiveTouch is a feature-rich and powerful alternative which can replace iPhone Home button and allows you to control your device completely. Besides, using AssistiveTouch will release you from unresponsive iPhone Home button issue.
Generally, with AssistiveTouch, you enable to access Control Center, Notifications, lock screen, rotate screen, unmute/mute, create own custom gestures and fulfill other tasks. How to use AssistiveTouch? Check this out: the complete guide of iPhone AssistiveTouch.
Mac Keyboard Shortcuts and Tricks
Compared to iPhone, Mac much comes with more useful shortcuts. You can complete the tasks or do things that usually require a mouse, trackpad or input devices by just pressing the combinations of specific keys. For using Mac keyboard shortcuts, besides standard function keys, there are few certain modifier keys that you need to be familiar with, including Command, Option, Shift, Control and Fn.
If you have been accustomed to using Windows computer, roughly, you can use Option instead of the Alt key and Command instead of the Ctrl key. There are many time-saving shortcuts and tricks available to be discovered. Let's start with those basic and frequently-used shortcuts of Mac keyboard.
1. Basic shortcuts of Mac keyboard: copy, paste, cut and etc.
Command + A: select all
Command + C: copy the selected item
Command + X: remove the selected item and copy it to the Clipboard
Command + V: paste the selected item
Command + F: open the Find window, find items in the current webpage, document, application or etc.
Command + Option + Esc: force quit application window
To know more Mac keyboard key shortcuts and combinations of Document and Finder, you can check this: Mac Keyboard Shortcuts – Apple Support, which gives you the whole list of Mac keyboard shortcuts.
2. Shortcuts of log out, sleep and shut down
Shift + Command + Q: log out of your OS X user account (with being asked to confirm)
Option + Shift +Command + Q: log out of your OS X user account instantly (without being asked to confirm)
Control + Shift + Power button: put display to sleep
Hold Power button for 5 seconds: force Mac to turn off
Control +Command + Power button: force Mac to restart
3. Basic and Useful Shortcuts of Spotlight
Spotlight is a great feature that allows you to search for things like images, applications, documents and locate files on Mac quickly. Here, we introduce some useful shortcuts of spotlight.
Command + Space: activate spotlight menu
Esc: close spotlight menu
Command + Option + Space: open spotlight in Finder
In fact, spotlight is capable of many other features. For example, it includes dictionary definitions, and could do conversions and quick calculations for you.
4. Shortcuts of taking screenshots on Mac
Many times, you need to take Mac screenshots for personal or business use. In fact, Mac allows you to take screenshots without using third-party applications or tools. So, how to take screenshots on Mac by using those shortcuts?
Command + Shift + 3: take screenshots on Mac in full size (the screenshot of the entire Mac screen)
Command + Shift + 4: take screenshots of a custom area on Mac
Command + Shift + 4, and press Spacebar: take screenshots of specific windows
5. Other Tricks of Mac
Split View in Full-Screen Mode
Mac allows you to have more than 1 application or windows open and view at the same time. To activate the split view, you need click and drag the green window-resize button to fill Mac screen with 2 applications or windows at once. Moreover, you enable to customize the space amount for each application or windows. But note that not all applications are compatible with the Mac Split View.
Cursor Locator
With this trick, it is very easy for you to find cursor or get the mouse reconnect to Mac. If you use trackpad, just wiggle your finger on it, or if you use mouse, shake the mouse few times to make the cursor grow in size instantly.

Tag:iPhone tips, Mac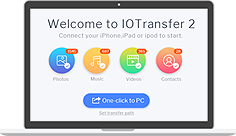 IOTransfer
Free to Manage and Transfer Files Between iOS Device and PC easily!
Download Now
For Windows
Tag Cloud